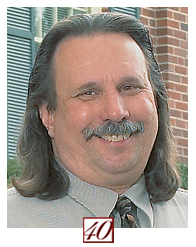 Founded in 1979 by Don Peschke, a former low-level training editor at Meredith who sought to fill his interest in woodworking with the launch of Woodsmith, August Home Publishing has grown into a $50 million company with a stable of four additional magazines—ShopNotes, Garden Gate, Cuisine at Home and Workbench, the only title that sells advertising. The company boasts an average of 10 percent to 12 percent growth per year over the last decade, primarily through organic growth.
"The phrase we use is 'surrounding our customer with service," says Peschke. Online, that could be in the form of tips, video, DVDs and paid membership. The company offers a series of special interest books on the newsstand at $10 a pop, a business that has grown to about 25 percent of the company's total revenue. Each medium sparks another; video turned into podcasts, which has turned into a TV show on public television.
While most publishers are abandoning paid content online, August Home has embraced it, having the most success with selling individual articles and plans from the magazines for $10 each. The company sells between 200 and 300 per day. "Are most publishers online making money or just propping up their print side?" says Peschke. "I think it's a mistake to keep giving away content."
Next up for August Home is a push to create paid communities online. The company is testing this concept with gardening and woodworking products, which already offer tips at their Web sites. People who sign up for a free membership receive an enhanced video tip each week.
The third phase is a paid, elite membership. "We want to get much more serious about selling content on the Web, particularly video," says Peschke. "That would fly in the face of all this YouTube stuff, where publishers just give it away and get the exposure. We're a little counter-cyclical.
VITAL STATS: Brand extensions and ancillaries account for 20 percent to 30 percent of total revenue growth.