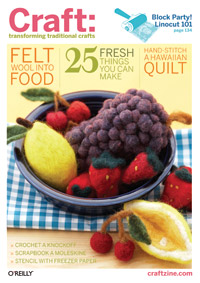 Craft, sister publication of O'Reilly Media's Make, launched in fall 2006 and is doing something relatively radical in an age of constant digital innovation—it's driving revenue mostly through print subscription and newsstand sales.
Craft has built a print circulation of 55,000, two-thirds of which are newsstand sales. Single copies sell for $15 at newsstand, and subscriptions sell for $35. According to associate publisher Dan Woods, advertising accounts for less than 8 percent of total Maker Media division revenue. Only 14 to 16 of a total 162 Craft print pages are devoted to ads, and most are placed at the front or back of the book. The Web site—with 1 million unique visitors a month—is seen mostly as a complement to print, used for community-building and as a marketing tool.

A Sure Shot
About a year into Make's launch, the editors caught on to the fact that a whole new publication could be created focused solely on crafts and geared towards a predominantly female audience (Make is geared more towards men). They tested the idea at the Maker Faire—a bi-annual event that this year drew 45,000 enthusiasts in San Mateo, California and 25,000 people in Austin, Texas—and saw enough interest to move forward.

A Collector's Mentality
Part of the reason Maker Media limits ads is to keep the magazines as timeless and "nonperishable" as possible, says Woods. Selling back issues—in single copies and box sets—is a significant part of Maker Media's business strategy. A huge overrun is produced for each issue so the magazines can be sold—individually and by volume—on the online "Maker store," on bookstore shelves, and at Maker Faire retail stores, in which a 60-foot table displays back issues of Craft and Make for purchase. Fifteen thousand volume one box sets of Make have been sold to date, and Woods is hoping for similar results with Craft.
While most of the magazine content is available through subscriber log-in, free samples are often available when they complement a piece on the Web. Woods says this helps expose a wider audience to the brand and product, which will hopefully lead them to buy it at the newsstand and then later subscribe. And new subscribers are prime candidates to buy back issues.
Digital Community
Craft's site, Craftzine.com, is primarily a nexus intended to "connect the dots and introduce people and groups," says Woods. It draws on the strengths of the Web—its timeliness and ability to create community. The magazine directs readers to the site for updated resources and information, which helps keep magazine articles current and relevant. The site also offers a chance for readers to communicate with each other and respond to stories and blogs in real-time, adding their own tips, ideas and thoughts.
Community is extended in a much more directly beneficial way too, through conversational marketing campaigns, "a more organic way to work with advertisers," says Woods. Craft blogger Natalie Zee Drieu contributes to the Hewlett-Packard community Wiki, which drives traffic for both the advertiser and Craftzine.com.
Digital Editions and Podcasts
In addition to online-only articles, blogs, and message boards, Craftzine.com offers print subscribers log-in access to the magazine's digital edition. Users can subscribe for digital-only, but an "infinitesimally small" amount actually do, says Woods. Even overseas, where print subscriptions cost $49.95 and take 2-3 weeks longer for delivery, only 12 percent opt for digital-only. Woods says that, even though their audience is technologically-savvy, they are attracted to the print product for its particularities—longer, in-depth articles in a book-like format, printed "green" and collector-friendly.
Their podcasts are also drawing lots of interest. Woods says their weekly podcasts, called "Make Weekend Projects," have garnered about a million downloads a month and are often in the top 20 to 25 on iTunes.
"We generate revenue from print, online, events, and our store," says Woods. "All generate revenue, and most generate a profit. That offers us the freedom to experiment with other ideas. It's too risky to bank on just one."
MORE STARTUP STORIES:
Glam Media
Architect
Internet Evolution
Scientific American
WTWH Media
Secrets of the Top Editors: Peer-to-Peer Conversations
Check out this related session at The Folio: Show, November 1-2 in NYC!
Whether B2B, association, consumer or regional, all magazine editors face many of the same issues. It's not just about coming…