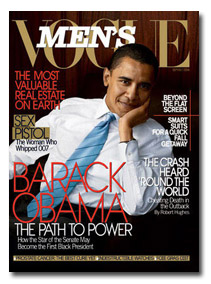 Condé Nast announced today that Men's Vogue, Vogue's glossy male offshoot that was being published 10 times a year, is being folded back into Vogue.
The 350,000-circulation magazine will be absorbed by Vogue and be published twice a year, in the spring and fall. It will continue to be edited by Jay Fielden; publisher Marc Berger is leaving the company, Condé Nast said.
It is unclear how many layoffs would be associated with the magazine's folding. Men's Vogue employed approximately 40 full-time staffers.
Maurie Perl, a spokesperson for the company, said, "We are in the process of evaluating the organization relative to this change and I do not have more details yet."
Through September, ad pages for Men's Vogue were down 4.8 percent, according to the Publishers Information Bureau. Single copy sales—53,600 per issue on average—were off 39.1 percent during the first half of the year, according to the Audit Bureau of Circulations Fas-Fax.
Condé Nast also said that it would scale back Portfolio, its high-profile business magazine, to 10 issues per year. Staff reduction there, Perl said, is still to be determined.
Worst Week Ever?
The folding of Men's Vogue caps one of the worst weeks in recent memory for the consumer print publishing industry.
Earlier this week, Wenner Media, which publishes Rolling Stone, Us Weekly and Men's Journal  announced it would lay off seven. On Tuesday, BusinessWeek publisher McGraw-Hill announced it would lay off 270 employees, including 140 at its publishing division. On Wednesday, American Express Publishing said it would cut 22 jobs as a result of a decline in ad spending. And Time Inc. announced this week a dramatic restructuring that will result in as many as 600 layoffs, including last week's slashing of approximately 30 jobs from its Southern Progress Group.
Earlier this month, Hearst closed TeenVogue competitor CosmoGirl; Mansueto Ventures, which publishes Fast Company and Inc., cut 20 jobs, including some from its online division; and Playboy eliminated 80 positions from across its company, an unspecified number coming from its magazine. And Radar, the magazine that had already shuttered twice before, announced it would stop printing its magazine, selling its Web site to American Media Inc. and laying off most of its employees.
"As you are well aware, these are extremely tough times," American Express Publishing CEO Ed Kelly wrote in a memo to staffers. "The past six weeks of economic turbulence have added significant pressure on our company."
Kelly continued: "I have been forced to take a hard and realistic look at our budgets and resources and make some difficult decisions related to our current business structure and operating costs. Due to a number of factors that our company and industry face—a decline in ad spending, increased prices for postage, paper and ink, and changing media consumption habits—I have determined that we must streamline."
Print's Place in the Media Mix, 2016
Check out this related session at The Folio: Show, November 1-2 in NYC!
In many markets, print remains a critical component in completing the 360-degree relationship with the reader. It serves an unduplicated…