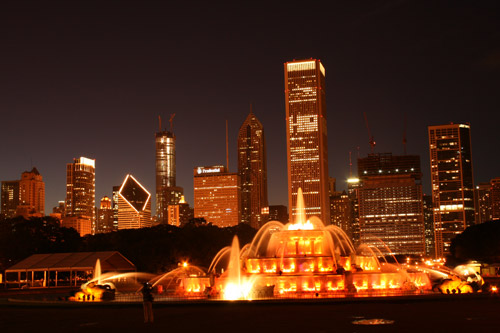 [Photo taken by FOLIO: publisher Tony Silber late Sunday]
CHICAGO—Circulation Management, the yin to FOLIO:'s yang, is in Chicago
this week for its annual show. (The pre-conference
just kicked off, so I'm not sure if it'll buck the attendance
drought that's starting to take effect for b-to-b publishers—we'll just have
to wait and see on that.)
Chicago is an interesting place to be in publishing. You've got the Tribune Co.—which,
along with News Corp., currently occupies the center of the newspaper world—and
the Cubs. And when a team that hasn't won a World Series in 99 years looks in better
long-term shape than its owner's newspapers, you known you're in a troubled
industry.
You've got city guides-there's the weekly Time Out Chicago (which is not owned by Donald Trump) and the
monthly Where Chicago, which is expanding to more cities.
You've got Chicago magazine. You've got Lake. And you've got Niche
Media's luxe Michigan Avenue, which recently corralled Ivanka Trump for one of
its high-end issue parties. (See some
photos here.) And don't forget about Playboy, which Hugh Hefner launched here in 1953.
For a city that's really a glorified small town, that many magazines
would seem to constitute "health." But, as BusinessWeek recently found
out, just because a region appears to be healthy doesn't mean it can
sustain a magazine. (BusinessWeek was recently forced
to shutter BusinessWeek Chicago after just seven months.)
Look for more dispatches from the CM show here throughout the week.
Oh, and go Cubs!
Secrets of the Top Editors: Peer-to-Peer Conversations
Check out this related session at The Folio: Show, November 1-2 in NYC!
Whether B2B, association, consumer or regional, all magazine editors face many of the same issues. It's not just about coming…