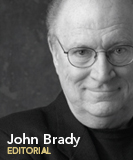 In an age of marketing overload, readers want information that is processed, not just dropped into place. They want magazines that are edited, not written. Younger readers are especially interested in getting to the best, quickly. When the gurus at Amazon.com launched an online musical retail site in 1998, they asked their 2.2 million customers to describe their dream music store. Some 25,000 responses later, it was overwhelmingly clear that customers want to be told what to buy. The site's recommendation center soon included "best music picks" for a wide range of moods and occasions, such as "barbequing," "cruising the strip" or "on the Stairmaster."
In print, and on Web sites, U.S. News & World Report has made a franchise of its Best Colleges style of reporting. (Radar got some buzz recently with a list of "America's 50 Worst Colleges.") City magazines compile "Top Docs," best lawyer lists, and most do an annual "Best of the City" issue, rating everything from restaurants and hair salons to dating services. Working Mother's list of "Best Companies for Women" now includes subsets, such as "Best Companies for Multicultural Women." Fortune lists best big employers and Business Week has "Best Places to Launch a Career."
"When a magazine lists a marketer or agency as a great place to work, does that really mean anything?" asked Advertising Age reporter Jack Neff in a story on how executive recruiters react to "best" lists. One recruiter told Neff, "I don't think I've ever heard someone say they were going to work for a company because it was on one of the lists."
Balancing the Polarity
If listings are based upon reader polls or online surveys, the problem is polarity: You hear from those who are really enthusiastic or who are upset about their experiences. You don't hear from the silent majority. Author John Zogby, who ran a national polling firm for two decades (and who predicted that John Kerry would defeat George W. Bush for president), says, "We can't state anything with certainty, because anything can happen." There is also a margin of error to consider.
For magazines to have credibility in their list making, then, it all comes down to how you measure quality, and how you define "best." Here are some guidelines that should enable you to do your best in developing and packaging list stories:
• Choose an editorially appropriate topic. If your magazine covers the auto body trade, a list of the best auto-parts distributors makes sense. Don't let the idea of "brand extension" take you off your beat. U.S. News came under fire recently for launching a "Rankings and Reviews" Web site that featured a "Best Cars & Trucks" roundup.
• Establish criteria for excellence. AARP: The Magazine does best-of's with an active retirement slant. For a story on America's "healthiest cities," AARP used unique and specific measurements, such as the average number of sunny days, the percentage of residents who get regular exercise and the number of physicians per 100,000 residents.
• Look for outside expertise. Magazines can enlist data bank suppliers to give their lists solid statistical underpinning. BestPlaces.net, for instance, compiles city demographics and statistics on cost of living, crime, schools, climate, economy, health and quality of living. Castleconnolly.com is a leading source for information on healthcare and America's top doctors.
• Consider the light approach. Some best-of's are serious; others are lite. Food fights are usually the latter. Many of these lists are the result of tastings and panel deliberations. The Boston Globe recently ran six brands of vanilla ice cream through the food section's Taste Kitchen, concluding, "There was no clear winner—most brands received compliments. After emptying their mini cups, our tasters piled their personal favorites onto slices of berry pie."
One way to expand a list (and reader interest) is to run a box inviting readers to send in their own favorites. These can be included in a subsequent issue or on web site updates. When that happens, the best is yet to come.
Developing a Video Strategy That Works for Your Brand
Check out this related session at The Folio: Show, November 1-2 in NYC!
Video content represents huge opportunities for digital audience growth and new revenue, with some publishers going as far as to…