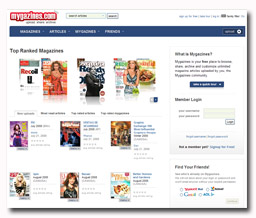 Mygazines.com is registered to a company with post office box in Anguilla.
Here we go again.
Following in the barely legal footsteps of free, peer-to-peer digital magazine sites that have come before it, Mygazines.com, a Web site that enables users to "share" magazines as they would in "a doctors' office, law firm, library and hair salon," launched today.
The site already boasts current issues of dozens of magazines, including People, Playboy, Dwell, Domino, Allure, Spin, Smithsonian, Popular Science, Martha Stewart Living, New York, Men's Journal and Esquire.
"This is a blatant infringement on all magazines' copyrights that we're taking very seriously," Lauren Starke, director of public relations for New York magazine, said in a statement to FOLIO: Wednesday. "We are working with our legal counsel and the MPA to put a stop to this abuse of magazine content." A Hearst spokesperson said the company was exploring similar legal options. And the MPA weighed in with a statement to FOLIO:: "We believe [this] is a blatant copyright infringement of our members' titles. We are aggressively pursuing the matter in conjunction with our members' attorneys and expect that legal action will commence shortly."
Representatives for the publishers of other titles, including Condé Nast and Playboy, did not respond immediately to requests seeking comment.
"This is not a new phenomenon […] in fact it is so common that publishers themselves promote their estimates of this 'sharing' to potential advertisers," the company behind the Mygazine site said in a statement announcing the launch. "[The site] levels the playing field in the industry, by allowing both large and small publishing houses equal access to potential readers."
According to the site's terms of use, users are not allowed to "post or transmit, or cause to be posted or transmitted, any [c]ontent that is infringing." But the site allows uploading if "you purchased the [c]ontent, created the [c]ontent, you own the rights to the [c]ontent and/or the [c]ontent is freely distributed by its [c]reator."
In 2006, two similar Web sites offering free PDF downloads of American magazines—SpotBit.com and the peer-to-peer-based Zinoku—were launched outside of U.S. jurisdiction. Both sites were quickly shuttered. (SpotBit eventually relaunched and now offers mostly obscure e-books, magazines and brochures.)

[EDITOR'S NOTE: This story previously indicated that Mygazines.com was registered to a
U.K.-based company that sells health and beauty products. That was incorrect.]
Native Advertising: Delivering for Partners While Retaining Your Brand Voice
Check out this related session at The Folio: Show, November 1-2 in NYC!
Editors have become a key part of the native-advertising conversation, as many successful media brands generate custom content for their…