The tipping point, in which print revenue is eclipsed by other models, notably e-media and events, is a reality for many b-to-b publishers, particularly technology publishers. On the other hand, consumer publishers have remained solidly print-driven in the past few years and remain so today. However, the tipping point is starting to emerge on the consumer side as well, as e-media solidifies its hold as the fastest growing revenue stream and begins to overtake traditional revenue streams like newsstands sales (if not print advertising sales).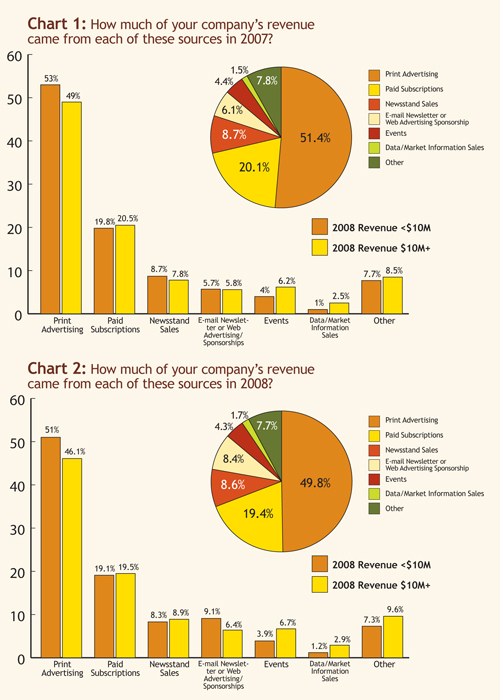 In the fourth annual Consumer Magazine CEO Survey conducted by FOLIO: and Readex Research, executives from all of the various consumer magazine sectors described the state of their businesses. A growing divide is emerging between larger publishers (defined as generating more than $10 million in annual revenue) and smaller publishers (those that generate less than $10 million in annual revenue) in terms of where their priorities are for growing their businesses and the challenges they face.
However, despite the constant press about the decline of print, the survey also revealed a bright spot for what remains the dominant revenue stream for consumer publishers; print.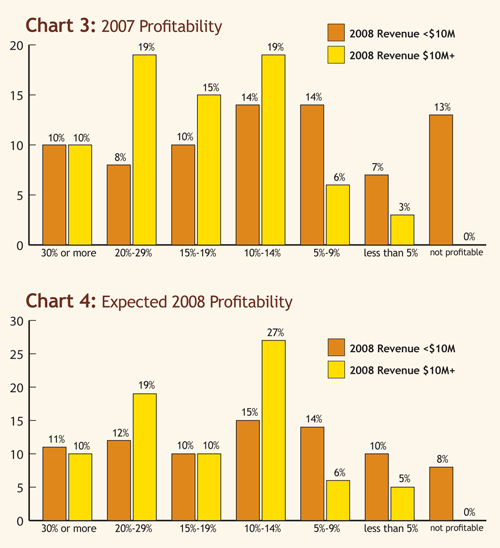 E-media Eclipses Newsstand (Small Pubs)
Print continues to decline as a percentage of overall revenue as publishers continue to develop multi-media platforms. Larger publishers see 46.1 percent of total revenue from print in 2008, down from 49 percent in 2007. Smaller publishers derive 51 percent of total revenue from print in 2008, down slightly from 53 percent in 2007. Paid subscriptions are the second largest revenue stream for both larger and smaller publishers in 2008, accounting for 19.5 percent and 19.1 percent, respectively.
E-media is the fastest growing revenue stream for both large and small consumer publishers [Chart 6, page 64]. E-media accounted for 6.4 percent of revenue for larger publishers in 2008 (compared to 5.8 percent in 2007) and 9.1 percent for smaller publishers (compared to 5.7 percent in 2007).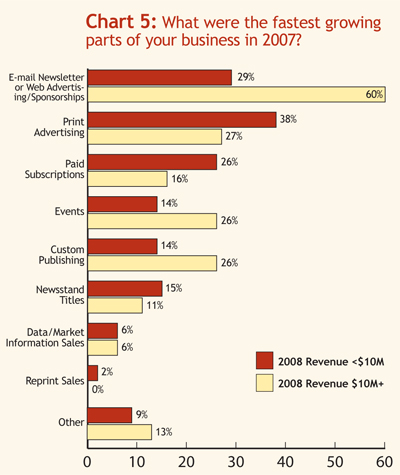 And for the first time, e-media revenue eclipsed newsstand sales as a percentage of revenue for smaller publishers (they will see 8.3 percent of total revenue from newsstand sales in 2008, compared to 9.1 percent for e-media.)
Sixty percent of larger consumer publishers said in both 2007 and 2008 that e-media was their fastest growing revenue stream. Meanwhile, 45 percent of smaller publishers said e-media is their fastest growing revenue stream in 2008, a notable jump from just 29 percent in 2007.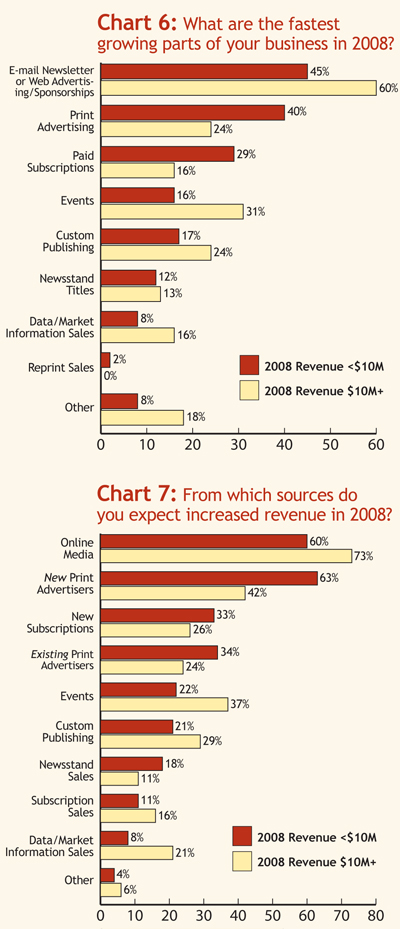 Growth from New Advertisers
However, when it comes to the second fastest growing revenue stream, larger and smaller consumer publishers split. Forty percent of smaller publishers say print is their fastest growing revenue stream, compared to just 24 percent of larger publishers. Events are the second fastest growing revenue stream for 31 percent of larger publishers, compared to just 16 percent of smaller publishers. At the same time, 30 percent of larger publishers said they expect to launch a new print title, compared to just 25 percent of smaller publishers.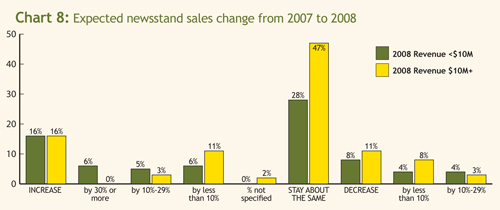 New print advertisers were cited as an expected source of increased revenue, far more than existing advertisers spending more, even with integrated packages [Chart 7, page 65].  Just 18 percent of smaller publishers and 11 percent of larger publishers expect the newsstand to significantly increase going into 2009.
However, as publishers grow more sophisticated, they see their revenue streams more as an integrated package then media silos.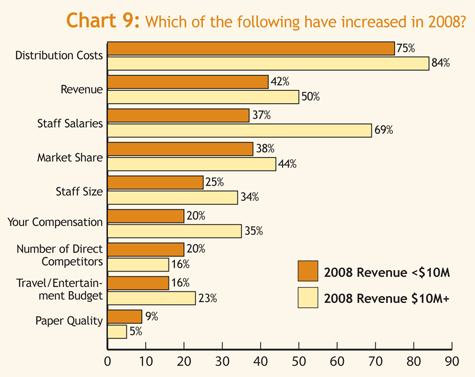 Online advertising revenue currently accounts for about 10 percent of overall revenue at Time and is projected to grow by 57 percent in 2008 and another 35 percent to 40 percent in 2009, according to president and worldwide publisher Ed McCarrick. While McCarrick thinks online will eventually be 30 percent to 35 percent of overall revenue, "offline revenue is still the big engine," said McCarrick. Still, one medium is leveraged with another. "We're putting together a multifaceted approach and it's no longer clean in terms of one media being separate from another."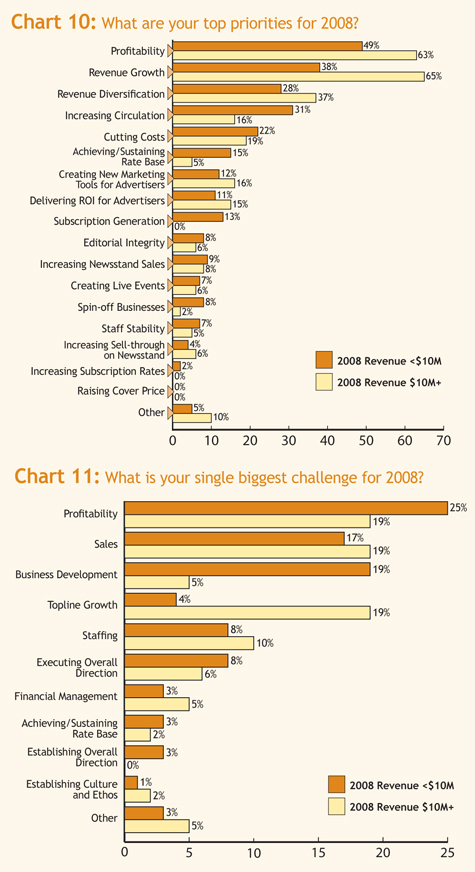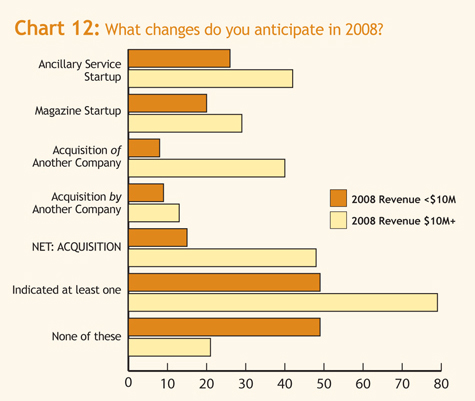 METHODOLOGY
The survey mailing list of 1,792 was selected by Red 7 Media and included all Folio: recipients with executive management titles at consumer publishing organizations. Materials, production, addressing, mailing and tabulation were all handled by Readex Research. Data was collected via mail survey from May 22 to July 7, 2008. The survey was closed for tabulation with 421 usable responses—a 24 percent response rate. The margin of error for percentages based on 421 usable responses is ±4.2 percent at the 95 percent confidence level.