The 2008 FOLIO: 40 | Ones to Watch

A watch list for 2009.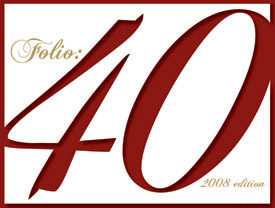 David Carey | President, Conde Nast Business Media Group, Wired, and Golf Digest
Carey has risen in the Conde Nast ranks while overseeing the $100 million launch of Portfolio—the most expensive in the company's history.
Frank Anton | CEO, Hanley Wood
If Anton can weather the housing market crash with the company intact, he'll deserve a return trip to the FOLIO: 40 list.
Audience Metrics
The Magazine Publishers of America has made speeding up the reporting of magazine metrics a top priority for 2008. Similar projects have gotten a lukewarm response from publishers in recent years.
Tim Regan-Porter | president, Paste
Challenges facing the magazine industry (the shift of resources and ad dollars to the Internet, slumping newsstand sales) mirror the music industry's slumping record sales. Paste is among a handful of independent music titles coming up with innovative ways-like offering "pay-what-you-want" subscriptions a la Radiohead-to stem the tide.
Doron Grosman | magazine division president, Quebecor World
Three weeks after Quebecor World filed for bankruptcy protection, Grosman told the crowd at the PRIMEX Conference in St. Petersburg, Florida that "creditor protection is a great place to be right now." We'll see if he was right.
Sid Evans | editor-in-chief, Garden & Gun
The former editor-in-chief of Field & Stream left for Southern lifestyle startup Garden & Gun. Now Evans must take the magazine from curiosity to mainstay.
Edwin Grosvenor | editor-in-chief, owner, American Heritage
He's the great grandson of Alexander Graham Bell and part of the family that launched National Geographic, and now he bought a 75 percent share of American Heritage from the Forbes family for $11 million with the intention of reviving the magazine's historic, literary roots.
Sean Brooks | VP of social media, TechTarget
A leader in new media strategies for b-to-b publishing, TechTarget is quietly turning its attention to building out a social media platform.
Renaissance Publishing
Three employees bought out this New Orleans regional publisher as it was teetering on the brink after Katrina. Now they're bringing it back.
BNET
An award-winning part of CNET Networks that provides business managers with actionable ideas. With the CNET sale in doubt, BNET could make an attractive acquisition on its own for a mainstream publisher who wants to buy their way into a proven Internet strategy.
Ziff Davis and Ziff Davis Enterprise
Questions abound for both Ziff Davis and its former asset, Ziff David Enterprise. How will Ziff Davis Media emerge this summer from its bankruptcy filing? After leaving CMP for rival ZDE, Steve Weitzner is motivated to fire up the tech category again. Can he?
The Atlantic
David Bradley has assembled an all-star team of publishing talent (president Justin Smith, formerly of The Week, and newly-installed publisher Jay Lauf, formerly of Wired) that has dragged the once-stodgy print brand kicking and screaming into the Web 2.0 era. Will profitability follow?
Lenny Dykstra | Publisher, Player's Club
The former New York Met, car wash millionaire and unlikely stock market genius is the force behind the Doubledown Media's latest launch, a magazine for professional athletes looking to manage their post-sports lives.
Eric Mika | SVP, Publishing Director, The Hollywood Reporter
Recently joined the Hollywood Reporter right before the launch of its East Coast edition and is spurring the magazine's international expansion.
Jeff Bewkes CEO | Time Warner
All eyes have been on new Time Warner CEO Jeff Bewkes since he took the helm of the mega media company January 1. Even before Bewkes' appointment was announced, speculation about Time Inc.'s future ran rampant. Bewkes has since downplayed the possible sale of the publishing division, but the industry will have to wait and see.
Meet the Author
---