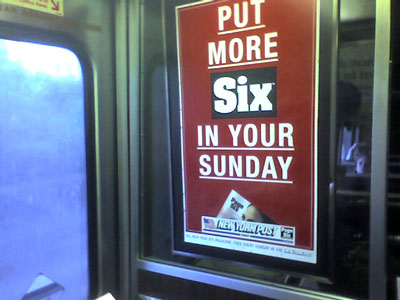 As Folio: previously reported, Rupert Murdoch's New York Post launched the latest glossy iteration of Page Six late last month as a Sunday insertion with guns aimed at the hated Gray Lady's New York Times Magazine. What we didn't report: the tabloid's marketing push. The Post has thoroughly (if annoyingly) blanketed subway cars and Metro North trains with display advertising, like the placard above, playing the obvious alliterative "sex" theme. They're even running an ad on local New York television stations.
No word (yet) on how Six is selling. Stay tuned.
Pay-to-Play: How to Use Paid Ads on Social to Amplify Your Brand's Content
Check out this related session at The Folio: Show, November 1-2 in NYC!
Many social networks are turning to paid posts as their main source of revenue—none more so than Facebook, Instagram and…