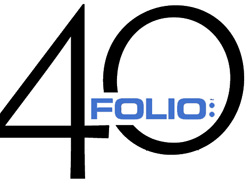 Welcome to the 2007 FOLIO: 40—the oldest, most comprehensive and most distinguished compilation of its kind. As always, we've spent the last year examining the entire industry, as well as a few markets that intersect it, for individuals from the executive suite on down who best represent an increasingly multifaceted media landscape. Individuals who have demonstrated tangible proof of actionable ideas.
This year's list is reflective of what FOLIO: strives to accomplish with each issue-highlighting the best in the industry from consumer,
b-to-b, association, and regional publications.
The 2007 FOLIO: 40 is not all-inclusive, nor is it meant to be. There are countless success stories that could be on this list. But the individuals profiled here represent the best of what the industry has to offer along with many other inventive minds.
These reports were compiled by FOLIO: staff editors Matt Kinsman, Bill Mickey, Marrecca Fiore and Linda Zebian, and contributor Jane Zarem.
C-LEVEL VISIONARIES
Jonas Bonnier – Chairman Bonnier Corp.
Will Cain – Publisher Quince Girl
Milt Jones – Owner, Publisher Palm Springs Life
Joe Mansueto – Founder Mansueto Ventures LLC
Steven Pleshette Murphy – President and CEO Rodale
Barbara Newton – President Reiman Media Group
Al Perlman – Co-founder and CEO Microcast Communications Inc.
Dan Ramella – Co-founder and President Club & Resort Business
Dana Spain-Smith – COO DLG Media Holdings
Neal Vitale – CEO 1105 Media

DIRECTOR-LEVEL DOERS
Chris Anderson – Editor Wired
Gregory A. Catsaros – VP Manufacturing Primedia Enthusiast Media
Colin Crawford – SVP, Online IDG Communications
Alfred Edmond Jr. – SVP, Editor-in-Chief Black Enterprise
The Hanley Wood Bench
Bob Faletra – President, Channel Group CMP Technology
Dale Dougherty – Co-founder, Editor, Publisher Make
Terry McDonell – Editor Time Inc.'s Sports Illustrated Group
Marta Wohrle – SVP, Digital Media Hachette Filipacchi
Doug Serafin – Director, Newsstand Planning Hearst Magazines

INDUSTRY INFLUENCERS
ASBPE – American Society of Business Publication Editors
Nick Curci – President Corporate Solutions
Anup Bagaria – Vice Chairman Wasserstein & Co.
Every Day With Rachael Ray
Frank Locantore – Director, Magazine PAPER Project Co-Op America
Scott Karp – Editor and Publisher Publishing 2.0
MySpace
The Private Equity Searchers
R.R. Donnelley
Josh Wolf – Blogger Joshwolf.net

UNDER THE RADAR
Tricia Bateman – Art Director HOW Magazine
Glenn Cook – Editor-in-Chief, Director of Publications American School Board Journal
Mary Dong – Production and Distribution Director The Economist
Macy Fecto – Senior Vice President, Human Resources Access Intelligence
Ed James – President Cornerstone Public Relations
Kathy Kohm – Editor Conservation Magazine
Anita Malik – Editor-in-Chief EastWest
Derek Powazek and Paul Cloutier – Co-Founders 8020 Publishing
Mahala Renkey – Director, Brand Management Project Management Institute
Tom Trezza – President and Founder Trezza Media Group
Everything You Need to Know About Programmatic
Check out this related session at The Folio: Show, November 1-2 in NYC!
Programmatic has become a juggernaut, driving Google's and Facebook's revenues to levels higher than the entire magazine industry. For many…