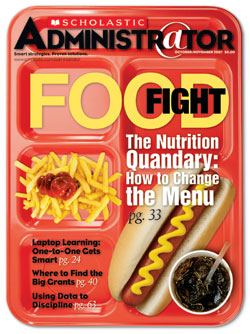 This month: Scholastic Administr@tor
Issue: October/November 2007
Frequency: 8 issues per year
Launched: Winter 2002
Circ: 100,000
Editor: Kevin Hogan
Publishing company: Scholastic
Creative Director: Adana Jimenez
The art and editorial team at Scholastic Administr@tor wanted an "in your face" way to represent what they considered to be a grim finding: That 77 percent of children they polled say hamburgers, hot dogs, and French fries are the most common foods offered in their schools.
"As administrators, our readers are directly responsible for these decisions," says executive editor Kevin Hogan. "And most schools are serving junk. We wanted a clean message that said, 'Is this what we want to feed our children?'"
The food tray concept began as a chart for the issue's main feature. Each quadrant included different facts and figures on school menus. Art director Adana Jimenez says it was in line with their normal goal for charts: To be as creative as possible without straying too far from concepts. Because, as Hogan says, the tray was "especially iconic" for the magazine's readers, they decided to transform the tray into the cover as well.
The designer used stock art from various sources. At first, they tried to reflect a confrontational element by contrasting healthy and greasy foods. They tried using a squished tomato and green peas inside the letter "o" in "food." Ultimately, the team decided that all "junk" would make a stronger statement. "We weren't trying to make it pretty or perfect," says Jimenez. "It's actually still too pretty for me."
They also played with colors, trying blue and mustard-yellow backgrounds before deciding on the reddish-orange. They worked on balance, using the hot dog to replace a pizza that was throwing it off scale. They also worked with cover lines, softening the language to be, as Hogan says, "in your face but not accusatory."
"This is a busy cover, with the large headline competing with the masthead. I like the food tray concept but the photo illustration seems a bit stiff. The @ symbol in the masthead is a bit dated and I don't see a reason for the dark drop shadow on the black text."
Brian Taylor, Design Director, National Defense Magazine
"The concept and the use of the tray as the background is brilliant. However, the image, which appears to be a composite of separate elements, is not put together well. The end result is a very busy, unfocused cover. Great idea, but the execution could have been better."
Reiko Matsuo, Art/Design Director, Editor and Publisher Magazine
"The tray as a visual is somewhat clever but the food appears out of scale, obviously Photoshopped, and worse yet, clean and savory. If it was sloppy and unhealthy-looking, they might have better set up the argument for change. The black of the nameplate falls flat despite the drop shadow and the Scholastic box gets lost on the red tray. Typographically there is hierarchy without control and the words fight with the image for power. Only in the sub headlines is there legibility, but the page numbers feel more important than the story. Overall this cover has great bones, but it ultimately leaves me hungry for more."
Jim Nissen, Publication Art Director, Switch Studio
What do you think? Take the Face Up Survey, powered by Nxtbook.
Pay-to-Play: How to Use Paid Ads on Social to Amplify Your Brand's Content
Check out this related session at The Folio: Show, November 1-2 in NYC!
Many social networks are turning to paid posts as their main source of revenue—none more so than Facebook, Instagram and…