The 2007 Production and Art Salary Survey

Production executive and management positions-like every other publishing discipline-are perpetually shifting to include new responsibilities. In this exclusive annual salary survey of production and art professionals, compensation, for the most part, continues to climb as job descriptions become more nuanced. A notable number of director-level production executives-production managers and art directors are the other two categories surveyed-reported that they're taking on more circulation and distribution-related tasks. Art directors, for their part, are reporting that marketing and Web site design have moved under their direction.
The rapid pace of technology advancement and "deadlines" also loomed large as specific challenges. One production executive said, "Keeping up-to-date with latest technology in order to maintain current staffing and yet take on more work," was the biggest challenge. "Also, keeping work here (avoid offshore!)."
SALARY BY CATEGORY
PRODUCTION DIRECTOR OR TOP PRODUCTION EXECUTIVE
While association magazine production executives make do with flat comp levels, consumer and b-to-b production executives enjoy another year of increased salaries.
Salaries for top production positions continued their climb for the third year in a row. Consumer and b-to-b positions recorded the highest increase in salaries-about $6,000 each-with association production executives posting almost no gain. But if we compare salary levels from 2005, the first year Folio: conducted this survey, to 2007, salaries have increased $16,500 for consumer positions; $13,600 for b-to-b; and $3,500 for association production directors.
The gender gap increased slightly this year, with top male production executives reporting a higher salary by $7,600-about $700 more than last year. The Northeast continues to be light-years ahead in salary levels compared to other regions of the country-$12,000 more than runner-up West.
When top production executives were asked which industry trends would affect their personal compensation during the next year, a number indicated some worries over their print brands-a significant issue since many production careers are tied directly to print. "Paper and postage costs. E-media. Investments. Print still brings far greater revenues, but we are investing heavily to build e-media side," said one respondent. "The migration to online media. We're scaling back print and increasing online production so I'll have to learn about programming, learn more about online production/publications," said another.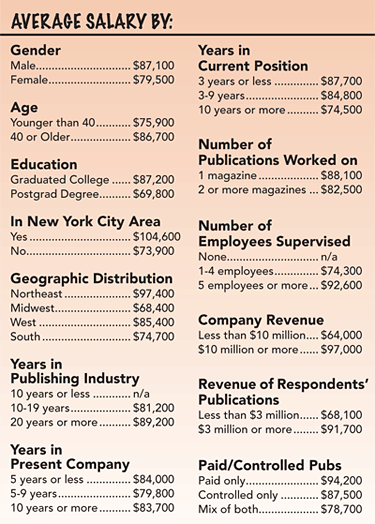 SALARY BY CATEGORY
PRODUCTION MANAGER
Production managers are slightly more cautious with their expectations of compensation changes this year, despite reporting healthy increases.
In a similar pattern to their production supervisors, production managers are riding year-over-year salary increases. Consumer production managers maintain their salary lead in both total salary and amount of increase over last year. Association production managers, as did their production executive colleagues, reported relatively flat salary levels. One difference, however, is production managers are a bit more leery of compensation changes in 2007 compared to 2006. Thirty percent of production managers expected no change in their 2007 compensation, while 23 percent of production directors expected the same. Of the production managers who did expect a change in the positive, most noted in their verbatims that an increase would simply be due to a cost of living bump. One respondent chalked up an increase to "Sheer luck!"
Time spent in both the industry and at a particular company have a material impact on salary. Production managers with 20 years or more experience in the industry reported about a $14,000 lead on those who have 10 or fewer years in the industry. Similarly, those with 10 years or more at a particular company report salaries of about $5,000 more than those with five years or fewer at a company.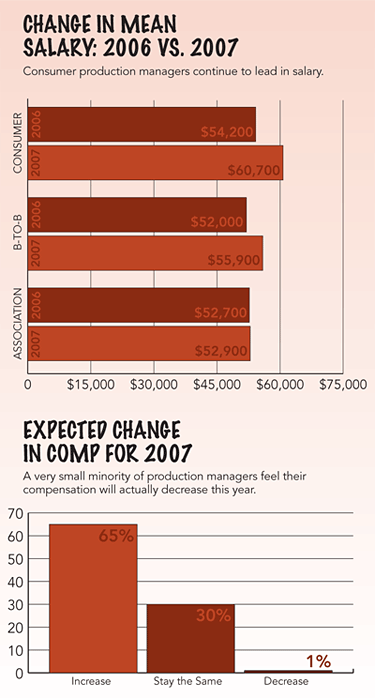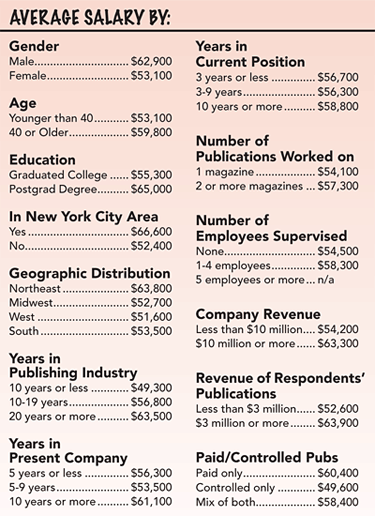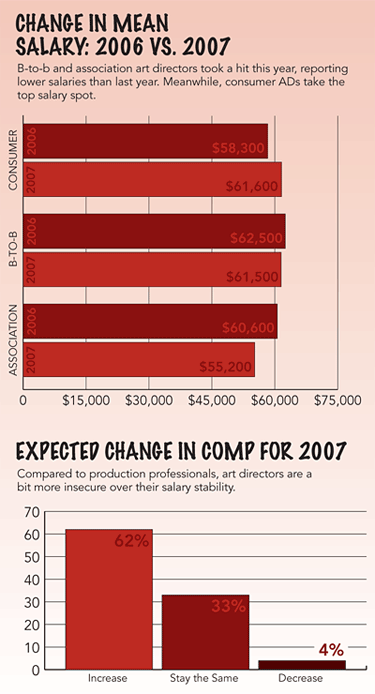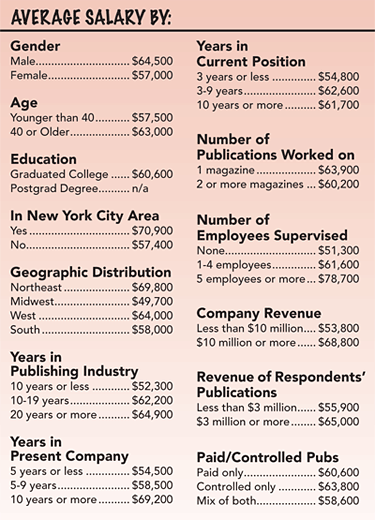 Meet the Author
---