2007 FAME Award Winners

Winners of the 2007 FAME Awards for Magazine Events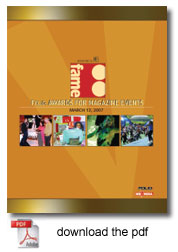 Jump to Category:
Best Custom Advertiser Event
Best Awards/Recognition Program
Best Conference
Best Conference & Expo
Best First-Time Event
Best Magazine Launch Party
Best Non-Profit/Charity Event
Best Online Event
Best Series of Events
GOLD – GRAND FAME AWARD WINNER
EXPERIENCE PARKS & CONSERVATION IN GRAND CENTRAL TERMINAL, NYC
National Geographic
September 22 – 28, 2006
The pages of National Geographic's October special issue featuring "The Places We Must Save" came to life at Grand Central Terminal in New York City last September. For its second annual "Experience Your World" photography exhibit, NG took over Vanderbilt Hall for nearly a week from 7:00 a.m. to 7:00 p.m. daily, displaying countless still photo-graphs and video screens featuring sights and sounds of the world's greatest national parks. Four 8' by 24' banners flanked both sides of the Terminal's Main Concourse, while a 20' archway banner displayed the National Geographic October cover. Thirty-two additional color posters were strewn throughout the Terminal. In Vanderbilt Hall, six 9' by 14' pho-tos displayed images from various parks. Six-sided photographic dis-plays and a giant "WildCam" screen with a live feed running 24-hours a day displayed different images from nature with sponsor message loops interspersed between the live feeds. On either side of the Hall guests could visit two interactive custom pavilions, a travel pavilion and a green lifestyle pavilion, both of which featured sponsor areas. From Travel Australia's images of flora and fauna, to Air France's daily sweepstakes for a pair of airline tickets to exot-ic destinations to Peruvian dancers and musicians putting on lively performances twice daily, the some 750,000 daily Grand Central visitors were engrossed in the rich experi-ence. NG held a private VIP reception and exhibition viewing on September 26 for sponsors, advertisers and their guests. Attendees received a gift bag including an October issue of the mag-azine, a hand-crank searchlight, global warming mug, and a box of shade-grown organic chocolates. The following night, technology sponsors Lenovo and AMD hosted a private reception for their clients and distributors. Sponsors distributed 102,500 brochures during the event, while the October issue of NG was the best-selling issue in the maga-zine's history.
SILVER
MIND AND BEAUTY BREAKFAST PRESENTED BY L'OREAL PARIS AT SELF MAGAZINE'S WORKOUT IN THE PARK
SELF
April 29 – May 20, 2006
For its annual Workout in the Park tour, SELF created a pre-event breakfast for major sponsor L'Oreal as a place for attendees to have breakfast, view presentations and interact with SELF editors and beauty experts from L'Oreal Paris.
The two-hour breakfast was only open to 200 guests and took place prior to the Workout event. More than 775 people attended the breakfasts in four cities. Upon arrival, guests entered a 40' by 80' tent decorated in L'Oreal Paris colors of deep purple, lavender and white. Each attendee received a gift bag with a Mind and Beauty t-shirt, an issue of SELF and a L'Oreal mascara. A stage program emceed by SELF editors covered topics like fitness, beauty, self perception and self-fulfillment. The stage show ended with a raffle drawing for a L'Oreal gift basket.
Following the stage show, attendees had the opportunity to receive five to 10 minute personal beauty consultations from L'Oreal specialists at eight stations focusing on skin care, hair color and cosmetics. Specialists shared beauty tips, showed attendees how to use new products and conducted full-face make-up applications. Throughout the remainder of the day, the tent opened to the public allowing Workout in the Park attendees to receive beauty consultations and product samples.
BRONZE
THE EC&M E-TRADESHOW
Electrical Construction & Maintenance
August 1 – December 31, 2006
Also the bronze winner for "Best Online Event" (see page 19), EC&M magazine held its first-ever e-tradeshow for the electrical industry last fall. Visitors virtually "walked" through a 3-D exhibit hall and conference arena and could virtually "pick up" and examine hand-held products and open larger ones to view product information or specification details. They spoke with product experts and sales representatives using text and/or voice conversation, viewed product demonstrations and attended product and training presentations given live in the exhibitor booths.
The conference area offered seminars and workshops each month during the event in the 3-D conference rooms where speakers could meet and chat with attendees and file and answer questions in real-time. Presentations were recorded and archived for on-demand viewing in a special library section of the conference area.
BEST AWARDS/RECOGNITION PROGRAM
GOLD
GLAMOUR' S WOMEN OF THE YEAR AWARDS
Glamour
January 30, 2006
Every December issue of Glamour celebrates the "Women of the Year," honoring female artists, athletes, businesswomen and grassroots activists who have made notable contributions to their fields. For the past 17 years, the maga-zine has honored these women for their accom-plishments at a star-studded awards ceremony. In 2006, the Glamour Women of the Year Awards were held for the first time at Carnegie Hall in New York City.The celebrity-filled guest list included past and present winners, prominent New Yorkers, advertisers, readers and hundreds of girls from middle schools and community groups around New York City. Guests included Sandra Bullock, Robert F. Kennedy Jr., Stephen Colbert and Queen Latifah. Musician Carly Simon and her daughter Sally Taylor kicked off the evening with a live performance, followed by an opening video speech from Katie Couric from her CBS Evening News anchor chair. Eleven awards were distrib-uted by high-profile presenters, including past winners Catherine Zeta Jones and media person-ality Barbara Walters. A brief video biography played on a screen high-lighting each woman's work and achievements. Guests met each other and networked at the din-ner that followed the ceremony. The highlight of the evening came when actress and musician Queen Latifah pledged $150,000 to award recipient and former Cambodian sex slave Somaly Mam's shelters. Shortly after Barbara Walters matched the donation. Attendance, which is by invitation-only, was the highest ever, with more than 2,000 audience members, up from 2005's 1,500 guests. A syndicated, hour-long television program aired the awards program during primetime on a Saturday night in December on NBC stations in various markets nationwide and was viewed by 2.5 million people. The Glamour.com Web site also featured a behind-the-scenes blog-ger detailing the event live.
SILVER

BIZBASH EVENT STYLE AWARDS
BiZBash Media
April 5, 2006
BiZBash Media, which publishes six event planning magazines in six markets, held a "best in the events industry" awards ceremony at Pacha nightclub in New York City. The brand embraced the meaning of the Spanish word "Pacha," which translates to "to live like a king," transforming the four-story venue into a decadent and magical experience for attendees.
Twenty-five characters dressed in elaborate costumes served as ushers, presenters and entertainment for the 600 planners and vendors in attendance. Guests received a burgundy and gold-leaf invitation before the event. Upon arrival, guests were greeted at the front door by dancers dressed in giant white butterfly costumes and led through LED-lit archways. A"Mistress of Ceremonies"dressed in a jeweled body-suit escorted VIP guests to a freight elevator where they sipped on champagne and strawberries on their way up to the VIP room.
The Moroccan-style VIP fourth floor room donned two cherry blossom arrangements and beaded lanterns. A performer dressed in head-totoe strawberries presented the first eight awards amongst red lighting. Following a performance by a belly-dancer, guests were ushered to the third floor to a sponsored Xbox gaming lounge where they could play video games.On the mezzanine level,a mermaid girl perched on a nautical ice sculpture greeted guests. On the main level performers dressed in white bird costumes distributed the final nine awards. Stilt-walkers dressed in multi-colored feathers, boys on swings and characters dressed as lions, fortune tellers, snake charmers and a Greek goddess roamed the crowed. Nine 50-inch plasma screens broadcast the awards ceremonies throughout the venue to ensure guests on all four levels could view the awards program.
BRONZE
REDBOOK HEROES: THE STRENGTH & SPIRIT AWARDS
REDBOOK
October 17, 2006
REDBOOK transformed its Mothers & Shakers awards ceremony in 2006, renaming it The Strength & Spirit Awards. The awards program, which honors people who are making positive changes in their communities and around the world, granted awards to both celebrity and hometown honorees, including celebrities Jada Pinkett Smith, Julia Louis-Dreyfus, Trisha Yearwood, Maria Menounos, Salma Hayek, and first-ever male recipient, Harry Connick, Jr.
Guests arrived at Lincoln Center's Avery Fisher Hall in New York City for a cocktail reception. VIP guests, including past honorees, attended a smaller reception for photo opportunities with the magazine, Hearst executives and representatives from Avon (the presenting sponsor). An audience of 300 advertisers, sponsors, celebrities, publicists, female policymakers and media and business executives attended the lunch followed by the awards presentation. REDBOOK editor-in-chief Stacy Morrison welcomed guests and presented 11 awards to recipients. Video monitors projected a series of photos of the winners and their accomplishments.
Press impressions of the event topped 30 million and included coverage on The Today Show, Access Hollywood, Extra and E! Entertainment as well as 2,200 radio stations across the country, in print and online.
GOLD
CURE PATIENT & SURVIVOR FORUM
CURE
September 19 & 20, 2006
CURE, the magazine targeting cancer patients and those experi-encing cancer as a family member or caregiver, drew in more than 200 attendees to the Four Points by Sheraton San Diego last fall for a weekend conference on what is happening in the cancer com-munity. Guests arrived on Friday for a meet-and-greet in the lobby and bar area of the hotel to network and socialize.The next morning, guests had the choice to take a spirit walk where they learned techniques specific to cancer patients, or do yoga with the author of a book about cancer-patient-specific yoga. Dr. Larry Einhorn, oncology expert and doctor of cancer survivor Lance Armstrong, presented a keynote speech to attendees after breakfast followed by a medical discussion on a wide variety of cancer issues. During lunch, attendees sat at tables with designated discussion topics, each table with a conference speaker leading the conversa-tion. Guests attended each of the breakout sessions throughout the day, covering a range of top-ics from nutrition and sexuality to music therapy, yoga, and fear of recurrence. Local and national non-profit groups sponsored the breakout sessions and the respective speakers, which allowed for word-of-mouth pro-motions through their organiza-tions. The event planners at CURE made a conscious decision to eliminate any sort of computerized Power Point presentations or formalized speeches in session rooms to ensure dialogue between speakers and attendees flowed naturally. All sessions were videotaped and posted online, and attendees received copies via e-mail following the conference. Attendees closed the day at a Meet the Authors Wine and Cheese reception while interacting with the 12-speaker-authors from the conference. Sunday morning attendees could choose to take another spirit walk or sleep in until breakfast before the final set of breakout sessions and a closing keynote speech from CURE editor-at-large Kathy LaTour.
SILVER
MENUDIRECTIONS
FoodService Director
March 19 – 21, 2006
FoodService Director took attendees though a number of general sessions and six hands-on workshops with food and beverage samplings at its two-and-a-half day conference in Orlando, Florida. More than 170 foodservice operators, including corporate chefs, com-pany, foodservice and operations management professionals attended the conference. The opening dinner at Sea World's Underwater Grill gave guests the opportunity to network, while a number of attendees took an exclusive tour of the kitchen and bakery at Universal Studios Orlando to see the inner-workings of a major theme park foodservice operation. Sponsors,which were predominately foodservice manufacturers, creat-ed recipes using their products, which the hotel kitchen staff prepared and served to attendees at three "Sponsor Vendor Fairs" throughout the conference, where attendees could sample up to six products from each sponsor. "Sack Races," a new program for 2006, put a twist on the traditional boxed lunch.This competition showcased four concepts submitted by attendees who were asked to design a boxed lunch utilizing Smucker's products, such as peanut butter, jams and syrup. Attendees then voted on the lunches based on recipe and ate the lunch they voted for. Attendance for the event was at an all-time high up 19 percent over the prior year. Ninety percent of 2006 sponsors verbally committed to sponsor the 2007 event. Overall revenue increased by 47 percent for the 2006 event.
BRONZE
MUFES '06/MULTIUNITFOODSERVICE EQUIPMENT SYMPOSIUM '06
Foodservice Equipment Reports
February 10 – 13, 2006
Foodservice Equipment Reports puts a limit on the number of attendees who are granted access to its MultiUnit FoodService Equipment Symposium each year, to keep the conference exclusive and intimate for attendees and sponsors. In 2006, MUFES attendees had the option of arriving a day early to play a round of golf with industry colleagues. Switching up the venue is important to the magazine, which held last year's event at the Barton Creek Resort in the live-music center of Austin, Texas. Equipment and supplies spec/buyers for international, national and region-al restaurant chains attended the conference sessions that ran parallel to magazine topics, bringing the sub-ject matter from the pages to life in an experiential event. Registration fees were high enough for"perceived value"purposes but low enough to be affordable, while suppliers paid a significantly larger fee. Sponsorship and attendance for suppliers is limited only to those who advertise in the magazine. is a special meeting created exclusively for the most experienced foodservice equipment & supplies professionals in the world. Brought to you by O d d i i b NAFEM POWERFUL EXCLUSIVE& mufesAnd you are one of these special people invited to the third Multiunit Foodservice Equipment Symposium Feb. 11-13, 2006 Barton Creek Resort Austin, Texas Barton Creek Resort Golf CourseBarton Creek Resort & Spa.
GOLD
EVENT SOLUTIONS IDEA FACTORY: EVENTS EDUCATION EXPO 2006
Event Solutions
August 20 – 23, 2006
The Event Solutions Idea Factory brought in 2,230 attendees in 2006, a 33 percent increase in attendance over 2005. Attendees from the corporate, independent and association event planning and production world followed blue bear-paw prints leading to check-in at the Denver Convention Center, in honor of Denver's famed big blue bear sculpture. A kabuki curtain surrounded the featured speaker stage and audi-ence, and dropped to open the conference to the show floor. More than 200 exhibitors lined the rows setting up shop in pavilion-style booths incorporating their products, like sound and lighting equip-ment and tension fabric structures, into their presentations. Guests attended a Spotlight Awards ceremony celebrating event profes-sionals from all over the world. In the evenings, guests could attend exhibition events including a catering showcase at the Pinnacle Club at the Grand Hyatt hotel. Four hosted parties at Pinnacle treated guests to different party themes including an Old West biker bar complete with root beer floats and gourmet mac-n-cheese at the "Ridin' the High Way" party; electric neon-themed rooms at the "High Voltage" party; a "Madhatter's High Tea"buffet; and a"High Tech"party where micro-sandwiches and ahi tuna suspended in the air on silver trays. At the Event Solutions Fabulous Showcase at the Red Rocks Amphitheatre, attendees enjoyed a "Keep it Pure" theme, experiencing products and services offered by 30 sponsors. In the "Pure Relaxation" space, guests could enjoy a party-sized spa, massages and makeovers. In the "Pure COLORado" area, local cartoonists dressed as "red rocks." Nude living stat-ues in painted-on ski outfits posed while the main stage was converted into "Pure Ra," where the pharaoh-costumed DJ played music. The "Project GRAMMY" contest gave four teams two days to exe-cute a design concept for three different GRAMMY Awards spaces (the luncheon,VIP lounge and after-party) using materials donated from exhibitors. This drove traffic to exhibit pavilions as partici-pants obtained materials for the competition. All attendees received a name badge embedded with a radio fre-quency ID tag, enabling them to check into classes and exchange contact information with exhibitors. An on-site audio and video podcasting professional recorded the sights and sounds of the show and interviewed attendees on their experiences, which was available via Web download after the event. The event planning team utilized SpaceShare.com's environmental networking servic-es to help attendees sync their travel and hotel arrangements, sav-ing money and natural resources.
SILVER
O YOU!
O, The Oprah Magazine
October 7, 2006
O, The Oprah Magazine pushed the envelope as a consumer magazine in the conference and expo space in 2006 by launching the O You! Conference and Expo.
O created a microsite devoted to the event, so readers could get a sneak peak. On the site, guests could customize their schedules for the day based on their interests via Web registration.First they chose which seminar they wanted to attend and then they selected an elective that was specifically themed to content areas of the magazine. Each elective consisted of two workshops conducted by O contributors and featured famed design expert Nate Berkus and Julie Morgenstern, a New York Times author and time management expert.
Attendees could also work in time to visit the O You! Bookstore to purchase contributor books and have them signed by authors. A "Breathing Space Lounge" area gave attendees a chance to take a moment to sit and relax, while at the "O at Home Lounge" featured Oprah's chef, Art Smith, in cooking demonstrations. XM Satellite Radio featured free listens of the new Oprah channel and offered product demos, while other sponsors presented their products and services in their designated areas. Attendees received an O gift bag full of sponsor product samples before leaving the event.
BRONZE
MEMORYTRENDS CONFERENCE & EXPO
Craftrends & Memorytrends
October 10 – 12, 2006
More than 6,400 members of the scrapbooking community attended the 2006 MemoryTrends Conference & Expo at the Boston Convention Center last fall. The conference featured hands-on workshops where attendees got to work with new products and seminars on specific retail management topics for retailers. An "Industry Forums" program was introduced in 2006, which allowed attendees to network and speak with a facilitator who has expertise in the topic area.
The show Web site featured a grid listing all of the classes on one page for easier selection for attendees. New digital topics were introduced to the conference program to address the growing need of information on how to incorporate digital products and trends into retailers' spaces.
BLACK STYLE NOW
Essence
September 8, 2006 – February 19, 2007
Also the winner of "Best Series of Events"(see page 20), Essence incorporated a number of events into a larger campaign titled "Black Style Now," in celebration of the contributions of African Americans to contemporary fashion. In conjunction with its September issue which was themed Black Style Now, Essence created a fashion exhibit at the Museum of the City of New York for six months, showcasing more than 75 dressed mannequins, video images and historic photos showing how today's fashion is shaped by African-American style.The museum also held a series of sub-events including a youth-oriented DJ and MC demonstration hosted by VH1 for more than 250 guests, and a book signing with the author of "Bling: The Hip Hop Jewelry Book."
Essence also created a VIP Opening Gala event on September 9th offering a special preview of the exhibition for celebrities,press,industry leaders and VIP clients. Fashion designer/producer/musician Sean "Diddy" Combs hosted the event while sponsors received prominent recognition in national ads and promotions, custom invitations, and on-site signage and gala gift bags. More than 1,200 people attended the event including celebrities Lil'Kim,Timbaland,Tommy Hilfiger and Stephen Burrows.
Four days later, Essence opened the exhibition with sponsor Macy's at the Herald Square store. More than 300 people attended the event which featured a "Future of Black Fashion" reception. Guests of the event enjoyed special Black Style Now rewards, including a comple
mentary copy of the book "The Way We Wore: Black Style Then" and attended presentations from Black Style Now curators and black fash-ion experts. The event also included a gift-with-purchase program that generated over $9,000 in one-day sales.
SILVER
THE MEN'S HEALTH URBANATHLON™ & FESTIVAL
Men's Health
October 1, 2006
Men's Health was in search of an annual signature event that would represent the brand to both readers and advertisers and created Urbanathlon™, a footrace and festival held throughout the island of Manhattan.
On a rainy day in October, readers had the option of running the race solo or as a three-part relay. Runners came from 36 states and four countries to participate in the city race which incorporated New York's most noted landmarks into the race, including urban obstacles like marine hurdles aboard the flight deck of the Intrepid,wall traverses and a ranger weave at Chelsea Piers, 52 flights of stairs at 7 World Trade Center and an eight-foot rope wall at the finish at Pier 54.
A post-race festival featured a climbing wall, break dancers, graffiti demos, a stunt bicyclist and live music as well as activities provided by the event's sponsors, including massages for racers at the PowerAde Option area and a full stock of shoes for racers to try on and purchase at New Balance.
BRONZE
TOYS FOR BIGGER BOYS
Stuff
December 5, 2006
The December issue of Stuff featured a holiday gift guide with more than 30 pages of the must-have gear and gadgets for the 2006 holiday season. On December 5th, more than 2,000 guests attended the accompanying "Toys for Bigger Boys" event at the Hammerstein Ballroom in New York City where Stuff brought the pages of the gift guide to life in a multimedia product display and silent auction to raise money for the Keep A Child Alive charity.
Live reindeer and servers dressed as Santa's helpers enhanced the holiday-themed atmosphere as guests sipped on holiday cocktails and sampled hors d'oeuvres, roaming from room to room to check out the latest in gear and gadgets. Sponsor shoe company Aldo set up a shoe shine station where partygoers could get their shoes shined and receive an Aldo Shoe Shine Kit. For every shoeshine, Aldo donated $5 to the Keep a Child Alive charity. Sponsor Jack Daniels hosted a gaming lounge where attendees could play poker with branded chips while sipping on a Jack Daniels cocktail.
GOLD
Seattle Metropolitan
February
25, 2006
The city of Seattle was buzzing in the weeks prior to the Seattle Metropolitan launch party. On February 25, 2,200 guests filled The Paramount Theater while 600 hopeful attendees were turned away at the door due to the capacity limits of the venue. Hundreds of umbrellas featuring symbolic Seattle landmarks hung from the theater ceiling while illuminated cherry blossom arrangements and orange French tulips adorned tables throughout the space.
Live jazz music played as guests arrived. Indie-rock band Minus the Bear rocked the theater before publisher Nicole Vogel took the stage to toast the crowd with shots of tequila in Seattle Metropolitanlogoed shot glasses before the curtain unveiled the premier cover. Guests dined on a midnight breakfast featuring classic eggs, pancakes and bacon.
The premier issue of Seattle Metropolitan sold 18,346 copies on newsstands the following month, making it the largest selling single-issue magazine for that month in the Seattle metropolitan area.
SILVER
bizSanDiego
October 25, 2006
A line of people wrapped around down-town San Diego's Basic Urban Kitchen + Bar on the evening of October 25, as guests waited in anticipation to enter the bizSanDiego launch party. Attendees checked in and received branded name tags on lanyards that hung around their necks. In one room guests found simple food like pizza and small individual desserts. The main attraction of the room, a large white board placed on two easels, had guests buzzing. Each guest received a branded sticky-note pad, where they could write down their ideas on what they wanted to see in future issues of the magazine and stick them on the board under the various magazine department sections. Across the hallway a large screen played intriguing images with taglines reading phrases like "Conversations that Matter" while guests found another whiteboard to express their ideas. Later in the evening publisher Brian Sacks took the podium to unveil the magazine.
BRONZE
Architect
June 8, 2006
On a June evening, more than 500 commercial architects and building product manufacturers arrived at the Standard Hotel in downtown Los Angeles where they received an exclusive wristband granting them access to a private elevator to the hotel rooftop. A bar/lounge overlooked the downtown Los Angeles skyline where guests could interact and network with one another outside a standard hotel ballroom setting. Held during the AISA convention, one of the largest trade shows for architects, the party occurred at an ideal time to reach the maximum number of industry influencers.
GOLD
TODAY'S PARENT FOR KIDS' SAKE AWARDS
Today's Parent
April 25, 2006
In a sunny floor-to-ceiling-windowed room at the Toronto Hotel, Today's Parent held its third annual Parent for Kids' Sake Awards in front of 200 readers and advertising clients. After readers sent in nominations of people in their community who have made an impact on children, the Today's Parent staff chose five winners to attend the awards breakfast. Winners also received a trophy and a donation to the charity of their choice on behalf of the magazine. The magazine also featured profiles on the winners and their accomplishments in a special issue. A group of child musicians took the stage entertaining nominators, nominees, charity representatives and clients of the magazine as they entered the room for breakfast. Afterward a TV news anchor shared her stories of visiting with impoverished children from around the globe followed by a performance from Canadian children entertainers Sharon, Lois & Bram, who got the crowd singing along with their well-known children's songs. Kids' Sake 2005 award winner Shane Ferguson took the stage to share how winning the award the year before changed his life, followed by the awards presentation, emceed by Today's Parent editor Linda Lewis and publisher Ildiko Marshall. The break-fast ended with a raffle, proceeds of which were sent to the Canadian Association of Food Banks. The emotional ceremony left few dry eyes in the room, and at the event, new sponsor KRG Children's Charities donated $50,000 to the program, allowing each winner to donate $10,000 to their charity. KRG signed on to sponsor the event for the next five years.
SILVER
GIT ROCKIN'
Federal ComputerWeek
October 12, 2006
Federal Computer Week hosted its first annual GIT Rockin'battle of the bands in an effort to create an out-of-the-industrynorm event,establish a new brand and foster goodwill in their traditionally conservative industry.
The competition, which opened itself to government IT bands only, attracted a crowd of nearly 900 at the Virginia State Theater, leaving standing-room only. Three sponsors footed the bill while proceeds from all attendee ticket sales were donated to the United Service Organizations of Metropolitan Washington, amounting to an estimated $16,000. Of 26 submissions, four bands were chosen to perform (bands had to have two executives from the government IT market in order to be eligible).
BRONZE
2006 CLASSIC WOMAN AWARDS
Traditional Home
October 19, 2006
For its second annual Classic Woman Awards the editors of Traditional Home reached out to the magazine's readers to nominate charitable women who make a positive difference through volunteerism. The awards program is an atypical cause for a shelter title to be involved with, but the event celebrates the real women who are featured throughout the pages of the magazine.
More than 250 guests attended the event held at the Tribeca Rooftop in New York to honor the five award winners. As guests entered the event they previewed the honorees at the "Gallery of Winners" area. From a cabaret-style stage set up with furniture from sponsor Thomasville, editor-in-chief Ann Maine and CBS Early Show morning news anchor Hannah Storm presented the winners and a short video highlighting each woman's achievements.The women were dressed in head-to-toe clothes and accessories from Talbots, one of the event's sponsors.
Following the awards, jazz-vocalist Ann Hampton performed three songs on stage. Traditional Home donated money generated from a silent auction of high-design items donated by advertisers and friends to each woman's organization. Winners took part in a video diary leading up to the event and on-camera interviews played at the awards and on the magazine Web site.
GOLD
VIRTUAL TRADESHOW: SECURITY AND MOBILITY
PC Magazine
August 22 & 23, 2006
PC Magazine editors created the Virtual Tradeshow: Security and Mobility so their magazine readers could reap the benefits of a real-world tradeshow (keynotes, presentations, actionable information, networking opportunities and event prizes) without having to travel. Attendance for the virtual tradeshow was free,however attendees had to pre-register by filling out an online form, which enabled the maga-zine to collect information about the attendees' companies, industries and IT budgets, which could also be shared with advertisers. Once logged in, attendees could roam the tradeshow virtually, just as they would in real-life. Arriving in the "entrance hall" of the tradeshow, a virtual lobby provided access to the exhibit hall as well as the "Education Center" where seven keynotes and panel discus-sions took place daily. The events were a mix of live audio, PowerPoint webinars and video presentations. Interactive formats allowed audi-ence members to ask questions and receive real-time feedback. A navigation tree allowed atten-dees to move from booth to booth or go back to "Home" to the lobby while a "briefcase" fea-ture allowed attendees to collect white papers and other resources during their visits to various booths. After the show, they could access their briefcase to download all of the collected files at the same time. In the show's "Lounge," attendees could chat with other attendees and PC Magazine editors. More than 4,200 people registered for the event. Total unique atten-dance was nearly 2,000 and 373 people attended both days of the event. The most popular sponsor booths received more that 1,000 individual visits from attendees, while attendees averaged one hour and 52 minutes at the show.
SILVER
THE EC&M E-TRADESHOW
Electrical Construction & Maintenance
August 1 – December 31, 2006
Also the bronze winner for "Best Custom Advertiser Event"(see page 5), EC&M magazine held its first-ever e-tradeshow for the electrical industry last fall. The five-month long event featured both a conference and a tradeshow floor and was free via pre-registration on the magazine's Web site. Anonymous attendees were not permitted, as each attendee had to pre-register with an e-mail address and electronic business card, allowing for interactivity between attendees.
Using the Expo 3D software platform based on computer gaming technology, EC&M created an interactive environment for exhibitors and attendees,including the capability to model and animate products and create functioning environments. Voice-over Internet protocol and instant messaging technologies allowed for easy communication. Users could also visit the show offline, interacting with products, materials, and previously recorded presentations.
BRONZE
HDTV WEBCAST "SELECTING AND SETTING UP AN HDTV SET"
PC Magazine
November 21, 2006
PC Magazine published a special guide to HDTV in its December 5 issue. The magazine created a one-day live and interactive event to supplement the guide that was free to readers interested in learning more about HDTV technology. The event was a way to connect the magazine's non-professional consumer-readers to its online events platform.
The event incorporated HTML, Flash, Windows Media Player and/or Real Player, allowing attendees to view slides, watch video and listen to speakers through a browser-based interface. Attendees asked questions, responded to pop-up polls, downloaded presentation slides and clicked on links to download information about buying HDTVs.
PCMagCast editorial director Dylan Tweney moderated the event and introduced a five-minute introductory video prerecorded by the magazine's HDTV guru Robert Heron, followed by presentations and a 20minute Q&A with audience members. PC editors sent follow-up e-mails to audience members whose questions didn't get addressed (due to time constraints), directing them to the magazine's online HDTV forum, where they could make comments and get answers to their HDTV questions.
GOLD
BLACK STYLE NOW
Essence
September 8, 2006 – Februarry19, 2007
Also the gold winner for "Best First-Time Event" (see page 12), Essence incorporated a number of events into a larger campaign titled "Black Style Now," in celebration of the contributions of African Americans to contemporary fashion. A series of parties, book-signings and in-store promotion events complemented the brand's main event, a six-month fashion exhibit showcased at the Museum of the City of New York. Essence held an opening gala at the museum where celebrities, press, industry leaders and VIP clients got a sneak peak at the exhibit, which featured 75 dressed mannequins, video images and stylized vignettes. Fashion designer/producer/musician Sean "Diddy" Combs hosted the event, with more than 1,200 people in attendance. Essence opened the exhibition to the public with sponsor Macy's at the Herald Square store. The event was promoted via Macy's Jumbotron from August 28 through September 15. More than 300 people attended the event and received special Black Style Now rewards, including a complementary copy of the book The Way we Wore: Black Style Then. They also attended presentations from Black Style Now curators and black fashion experts.The event included a gift-with-purchase program that gener-ated more than $9,000 in one day of sales. During the six-month exhibit, The Museum of New York featured a series of Black Style Now events including a youth-oriented DJ and MC demonstration hosted by VH1 for more than 250 guests, and a book signing with the author of Bling: The Hip Hop Jewelry Book that generated attendance of more than 300.
SILVER
SELF MAGAZINE'S WORKOUT IN THE PARK
SELF
April 29 – May 20, 2006
SELF's Workout in the Park celebrated its 13th year in 2006, bringing the pages of the magazine to life through a four-city tour stopping in San Diego, Miami, New York City and Chicago. The one-day out-door festival celebrates fitness, nutrition, health, beauty and total well-being for fitness enthusiastic and health-conscious women of all ages. All proceeds from the tour raised went to four major charities. Activities included workouts such as Hip Hop Bhangra, Retrobonics, Crumpin' and Clowin' and Cardio Striptease; rock wall climbing; an expert advice session on looking and feeling great; and free samples and prizes from various sponsors. Visitors could attend signature Crunch Fitness classes taught by experts from a main stage and enjoy healthy food and beverage refreshments while sampling the latest beauty and nutrition products.
BRONZE
SOUTHERN BREEZE WINE + CULINARY FESTIVAL
Southern Breeze
January 1 – October 31, 2006
Southern Breeze toured the Gulf Coast hitting Orange Beach, Alabama and Rosemary Beach, Florida from January through October last year, celebrat-ing the lifestyle and culture of both unique cities. Readers and anyone from the general public interested in the wine, food or culture of the Gulf Coast enjoyed tasting food and wine from area restaurants and attending seminars led by top chefs and notable winemakers at both sold-out events. Event highlights included The Winemaker Dinner, a culinary feast of Gulf Coast cuisine and expert insight into the world of wine; a Walkabout Brunch and the Grand Wine Tasting, which featured a showcase kitchen where wine and food seminars gave attendees the chance to try new dishes and wines, sponsored by Viking Appliances.
Meet the Author
---