2007 Circulation Salary Survey

Embattled circ executives are buoyed by rising 2007 salaries.
Circulation is not a discipline for the feint of heart. Staffing cuts, along with magazine launches and acquisitions, have translated into more responsibilities for circulators, ranging from ad sales to article writing to office duties—"too many to list," said one respondent in Folio:'s 2007 Circulation Salary Survey. For many, pay is flat or falling because of frozen budgets, caused by anything from the rising costs of gas, ink, and paper to "poor planning" and a lack of investment in the future, respondents said. Others blame a lack of respect. "The company doesn't appreciate circ and wants to cut expenses, so we are number one on the list," said one. That respondent is not alone. The greatest challenge of the job, one said, is "educating my boss about circulation when he is not that interested or willing to fund my efforts." Another said, "No respect from publishers. Everyone thinking they can do my job." Yet another: "Circ is not fully understood or treated as important as other disciplines in the industry."
Despite all this, many circulators are enjoying substantial salaries that, in many cases, have gone up since last year. They continue to overcome these hassles because many believe in their products and enjoy the autonomy and diversity of their positions. Several cited freedom, flexibility, and the challenge of planning, increasing numbers, reducing expenses, and solving problems as some of the most rewarding aspects of their jobs.
SALARY BY CATEGORY:
CIRCULATION DIRECTOR OR TOP CIRCULATION EXECUTIVE
The gender gap tightens while education and geography increasingly affect mean salaries.

For circulation directors in the consumer field, mean salaries have fallen slightly to $93,400, following a significant jump from $75,000 to $95,000 between 2005 and 2006. Directors on the association side have experienced almost an opposite trend—after a big drop from $85,000 to $67,200, salaries are gaining back lost ground with a 2007 mean of $74,200. B-to-b directors have enjoyed a steadier climb, with about 10 percent growth between 2005 and 2006 and about 3 percent growth in 2007.
Overall, 64 percent expect an increase in 2007, seven percent more than last year. "Online publishing will increase workload, and therefore, compensation," said one respondent, and several others offered similar insight. However, some see different results from online: "Decreased print advertiser revenue not yet matched by increase in online product revenue. Less money next year for everything." While only two percent expect a decrease (four percent less than last year), a significant 31 percent expect no change in salary in 2007.
The gap between female and male circulation directors has narrowed a bit. Female salaries have risen by a mean of $3,000 versus a mean increase of $300 for males. The gap between those working on just one title and those working on two or more has closed more starkly, from a difference of $11,100 favoring those with two or more to an advantage of only $200. In contrast, the gap between those with undergraduate versus postgraduate degrees has widened quite a bit. Those with undergraduate degrees reported a mean of $90,900 in 2006, which dropped to $83,100 this year. Those with postgrad degrees reported a mean of $88,100 last year, which is up to $109,800 this year.
Geography remains a key factor as well. Those working near New York City make a mean of $26,500 more than those outside the area. In general, many respondents cited "cost of living" as a reason for their salary bumps.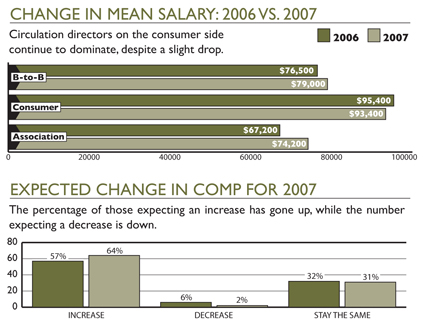 SALARY BY CATEGORY:
CIRCULATION MANAGER
Association circulation managers reign over those in consumer and b-to-b, while age, education, location and gender continue to be key compensation factors.



Overall, 56 percent of circulation managers expect a compensation increase this year, six percent less than last year. Only two percent expect a decrease, while 38 percent expect to see no change. For some, the outlook is grim. "More and more publishing companies are being purchased by investment companies who run them lean so they can be sold for a profit," said one respondent. But others remain hopeful, citing profitability, performance, and digital initiatives as harbingers of compensation growth.
Mean salaries for managers in b-to-b, association and consumer publications have gone up in each category this year. B-to-b and association managers' mean salaries have jumped above their 2005 levels after dropping in 2006. B-to-b mean salaries are up to $55,200 from $49,600 last year. Managers at association publications regain their 2005 lead over consumer and b-to-b, with a mean of $66,600 this year after a drop to $45,900 last year. Managers at consumer publications have seen growth over each of the last three years. Compensation was up by $4,300 between 2005 and 2006 and up again in 2007 to a mean of $64,500, about $10,000 more than last year.
Like directors, education, age and location are major factors on managers' mean salaries. The gap in mean salaries between those with undergraduate degrees versus those with postgrad degrees is a significant $20,300. Circulation managers older than the age of forty make a mean of $3,500 more. Salaries in the New York City area are up to a mean of $82,500, which is $33,000 higher than the mean for those outside the area and a 15 percent increase from last year.
Unlike directors, male circulation managers have experienced far more growth between this year and last in mean salary than their female counterparts—18 percent versus 6 percent.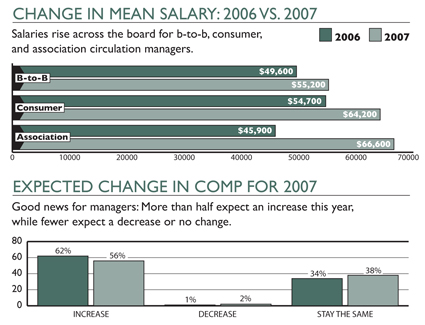 METHODOLOGY
The survey sample of 2,000 was selected in systematic, stratified fashion by Red 7 Media and Readex Research from Folio: sister magazine Circulation Management subscribers qualified under any job title classification other than fulfillment director/manager, list rental director/manager, renewal or billing director/manager, circulation consultant, or customer service director/manager. The sample represented 4,918 individuals meeting this criteria at the time of selection. Data was collected via mail survey from August 29 to October 9, 2007. The survey was closed for tabulation with 544 responses (a 27 percent response rate). To ensure representation of the audience of interest, results have been filtered to include only the 451 respondents who indicated that they work full time and their job functions are best described as circulation director, top circulation executive or circulation manager.
The margin of error for percentages based on all 451 respondents is ±4.4 percent at the 95 percent confidence level. The margin of error for percentages based on smaller sample sizes will be larger.

Conducted by Folio: and Readex Research.
Meet the Author
---