13 Magazines, One App

AMI created an app that lets subscribers access all 13 titles.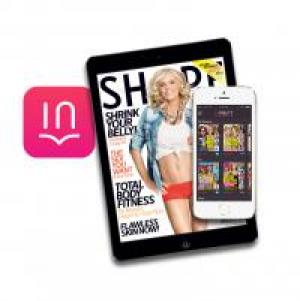 American Media Inc., publisher of Shape, Men's Fitness and Ok!, among other titles, has launched a new app called, rather ironically, InPrint. What's not ironic, though, is the access it provides subscribers-all 13 of AMI's titles are available by way of a 99-cent monthly subscription.
That's an introductory price, final pricing hasn't been determined, but Joe Bilman, AMI's chief digital officer and global head of business development, says the app is a move toward capturing a digital audience.
Mobile-Only Audience is Significant
This is an important point. A recent comScore study found that mobile audiences, while obviously growing very quickly, are expanding independently of desktop audiences. In other words, there's a portion of total digital audience that's mobile-only and the data suggests publishers would be unwise to assume all digital readers are accessing content across devices. For example, comScore found that 21 percent of AOL's total digital audience was mobile only. Buzzfeed's is 54 percent.
For more traditional publishers, that ratio is likely even wider between print and mobile.
"We felt like there was an opportunity to reach an audience that's different than the current print audience," Bilman says. "It's one that responds directly to a marketed digital product. They respond more to promotions and offerings in their social feeds and in social in general. This was the right time for AMI to capture market share with that audience going forward."
Bilman adds that this is an audience that likely will not be interested in print, and certainly won't be making a trip to the newsstand to pick up a hard copy of Men's Fitness. How- ever, they do frequent digital newsstands, and AMI opted to build a single app interface to its full stable of brands.
For now, the app is available on iOS only, but an Android version is coming soon, says Bilman. But the strategy of packaging all the brands through a single app interface is an attempt to capture the largest audience segment possible. "We think it's the most compelling offer in the market that would address the broadest segment of this audience," he adds.
Data Collection Phase
Despite the 99-cent introductory price, Bilman says they're not testing different pricing levels just yet. The project is mostly in a data collection phase. "We're tracking what they're responding to, which titles they're reading, what content and ads they're responding to and we're looking at that data and formulating bundling concepts."
Right now, Bilman says the entertainment brands Ok! and Star are leading the pack. "We thought that would be the case," he notes.
So far, Bilman says social channels have worked particularly well for marketing the app. "We're finding that social is a successful channel to drive interest and we're finding that the entertainment brands resonate. We're also finding that when people download and engage with the app, engagement is higher than expected. Directionally, we're very pleased."
Meet the Author
---