A 125-Year-Old Magazine Relaunches its 'Voice'

New editor of Ladies Home Journal promises new, 'uplifting' coverlines.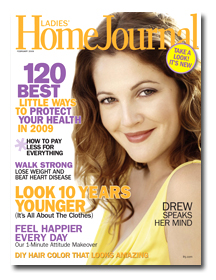 Today, Ladies' Home Journal announced a "dramatic" redesign (isn't it funny how all magazine redesigns are called "dramatic"?) and, in a somewhat unusual move, said the magazine will have a "bold new voice" and editorial philosophy.
Ladies Home Journal will now be "modern, clean, approachable and uplifting," says new editor Sally Lee. (A statement like that makes you wonder what, exactly, the magazine was before—"medieval, dirty, unapproachable and depressing"?)
It's the second redesign in roughly a year for LHJ, the last one coming under former editor Diane Salvatore in 2008.
Lee, who was appointed editor by Meredith in July, has repositioned the 3.8 million circulation LHJ with new sections and columns to promote a "look good, do good and feel great" philosophy. Coverlines "will convey positive messages and the photography will be fresh and relatable."
While some of these editorial refreshers may be welcome—like a new technology section and a modern "Answer Lady" column—some of the new editorial "franchises," like "Never Underestimate the Power of a Woman" and "Can This Marriage Be Saved?" seem pretty dated, particularly for a magazine that was founded 1883.
Meet the Author
---